Factory Order
It's no secret that new vehicles are hard to find right now. At Patriot, we want to make finding your next new vehicle as easy as possible and do what we can to move you to the front of the line!

We can help you reserve your next new vehicle from our incoming units or we can help you custom order a new vehicle and prioritize it being built and delivered!

If you have a current lease coming due we can also help you get in contact with your leasing company on what options are available while your new vehicle is being built!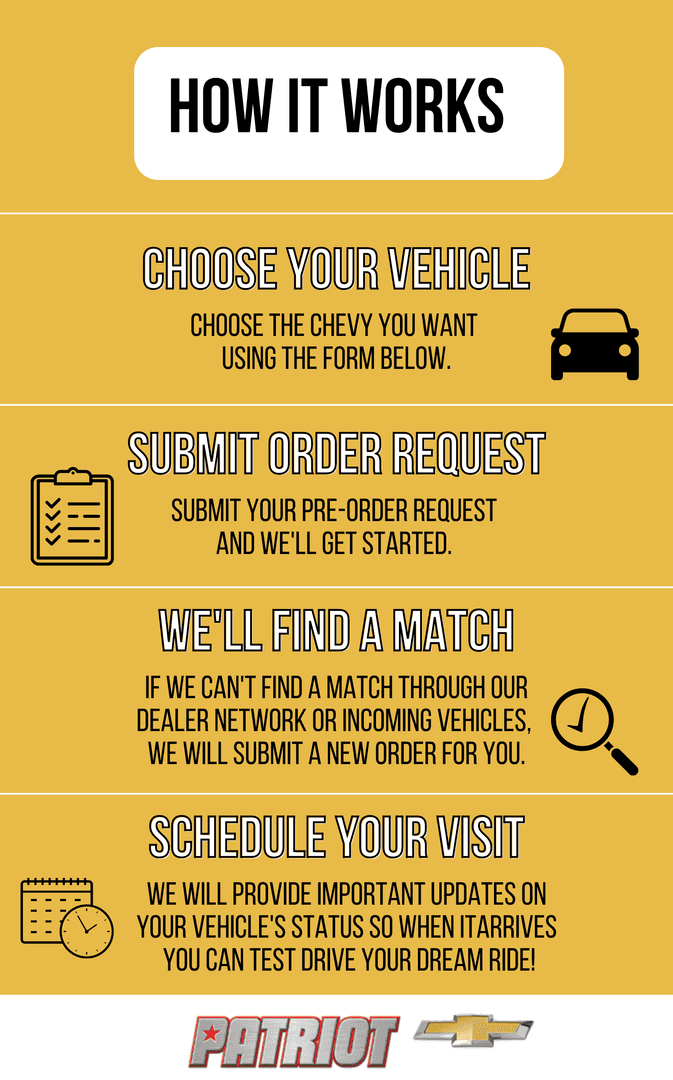 Interested? Fill out our order form below!
FAQ's
Do you require a deposit?
We collect a $1,000 refundable deposit to place your factory order that can be applied to the transaction or refunded at the time of delivery.
What if I change my mind?
You are not obligated to buy the vehicle once it comes in. If you don't like it, we'll keep it!
What will my price and payment be?
You can estimate your deal online, over the phone, or in our dealership to know exactly what to expect. Your final payments will depend on the exact vehicle you build up and the incentives and any financing terms you qualify for.
When will my vehicle arrive?
Once we place the order for your vehicle, we'll keep you in the loop the entire time to get your vehicle as fast as possible. As we receive updates from Chevrolet (or Buick GMC), we will be in touch with you.